US postpones U-Tapao Thailand weather project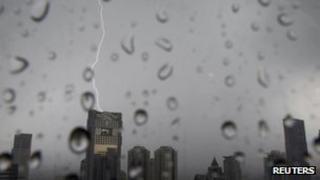 The US has delayed plans for a climate research project based in Thailand, its embassy in Bangkok has said.
The request by Nasa to use the U-Tapao air base as the project's operations HQ was opposed by critics who said it could be a cover for military purposes.
The base is located in Chonburi province, 190km (118 miles) south-east of Bangkok.
Nasa says that it wanted to study monsoon weather patterns. It says that the project may be revisited next year.
Thailand's government missed a deadline to approve the key scheme, leaving US officials with not enough "lead time" to transport equipment, hire staff and build laboratories for the study, an embassy spokesman in Bangkok said.
"It is unfortunate to lose this important opportunity for Nasa and Thai scientists to collaborate to collect data of scientific importance to not only our two countries but others in the region as well," the spokesman said.
Correspondents say that the issue has become the latest in a series of bitter rows between the Pheu Thai governing party of Prime Minister Yingluck Shinawatra and the main opposition Democrat Party.
The prime minister supported the project, correspondents say, but stepped back from approving it amid fierce criticism from the opposition.
"It's a great loss for Thailand to lose a vital opportunity to learn what we should know about regional climate, including floods, drought and other catastrophes," Serm Janjai, a physics professor involved in the scheme told the AP news agency.
"But what is more important is it has destroyed confidence in Thailand among the international science community. Someone has to take responsibility for this failure."