Gunman in Afghan police uniform kills three Nato troops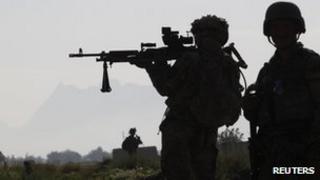 A gunman wearing an Afghan police uniform has killed three Nato staff in the south of the country, the coalition has said.
The gunman was injured and later detained, Nato said.
Officials did not confirm the nationalities of the killed service members, or any other details of the incident.
More than 20 foreign personnel have been killed in so-called rogue shootings this year.
Observers say this has eroded morale among foreign forces.
"An individual wearing an Afghan National Civil Order Police uniform turned his weapon against International Security Assistance Force service members in southern Afghanistan today, killing three service members," Isaf, Nato's force in the country, said in a statement on Sunday.
Members of the Nato-led Isaf force are training their Afghan counterparts in preparation for a full handover of responsibility for security by 2014.
Revelations in February that US troops burned copies of the Koran at a base in Afghanistan - reportedly by accident - as well as the shooting of 16 Afghans by a US soldier in March have inflamed public opinion against the foreign forces.