Burma releases about 20 political prisoners in amnesty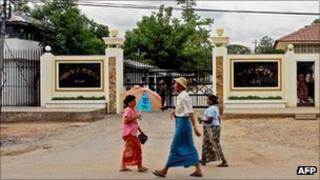 About 20 political prisoners are among 46 inmates freed in Burma as part of a presidential amnesty, activists say.
An official newspaper said the decision had been made to promote stability and national reconciliation.
Opposition leader Aung San Suu Kyi called for all dissidents to be freed. She said 330 political prisoners remained in jail. Other estimates vary.
Burma's military-backed civilian government has embarked on a series of reforms to open up the country.
After Ms Suu Kyi was freed from house arrest in 2010, she was elected to parliament and led her National League for Democracy party to win 43 seats in parliamentary by-elections earlier this year.
She has just returned from a European tour, where she collected the Nobel Prize she was awarded in 1991.
Reformers in ascendancy?
Most of Burma's high-profile political detainees were released in January. They included veterans of the failed 1988 student protest movement, such as its leader Min Ko Naing, as well as monks involved in the 2007 demonstrations and ethnic-minority activists.
The BBC's Jonah Fisher in Bangkok says that in the context of hundreds of dissidents remaining in prison, this release of about 20 is small. But it is another indication that those in favour of reform in Burma remain in the ascendancy, our correspondent says.
Among those released is Ko Aye Aung, who is considered by Amnesty International to be a "prisoner of conscience".
He was arrested in 1998 on charges of violating Burma's emergency act and illegally printing and distributing leaflets. He was initially sentenced to 59 years, but that was reduced to 29 years, AFP news agency reports.
Human rights activist Ko Ko Gyi, who was among the prisoners released in January told the Reuters news agency that in addition to Aye Aung, political prisoners Than Zaw and Pyit Phyo Aung were released on Tuesday.
Than Zaw, a former youth member of the NLD, had been in prison since 1989 for a bombing that another man had reportedly confessed to, Reuters says.
Analysts have maintained that the real test for Burma will be how much freedom released prisoners will have to continue their activities.
Western governments have renewed engagement with Burma and relaxed several key sanctions in response to the political reforms.
But both the US and EU have kept arms embargos in place and have called for all political prisoners be released before sanctions are further lifted.
And there are still concerns over political repression and human rights abuses.
The military-backed civilian government came to power in November 2010, after the country's first elections in 20 years.