Tokyo's panda Shin Shin gives birth at Ueno zoo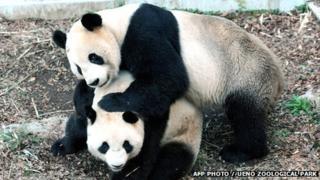 A giant panda has given birth at Tokyo's Ueno zoo, after being declared pregnant just days ago.
Six year-old Shin Shin, who was loaned from China, appeared publicly for the first time in Japan in April 2011.
She was found mating with her partner Ri Ri earlier in 2012. Suspicions of pregnancy came about after she showed sensitivity to noise and light.
The baby panda, which is yet to be named, is the first to be born at Ueno zoo for more than 20 years.
It is the first time the zoo's natural breeding programme has been successful.
The BBC's Mariko Oi, in Tokyo, said Shin Shin and Ri Ri have proved popular since their debut last year.
They appeared for the first time in public shortly after a powerful earthquake and tsunami struck Japan on 11 March 2011.
Pandas often experience difficulty in conceiving naturally, particularly when they are on public display, according to experts.
Officials at Ueno zoo said both Shin Shin and her new baby were in good health, according to the Associated Press.