Laos vows to address concerns over Mekong river dam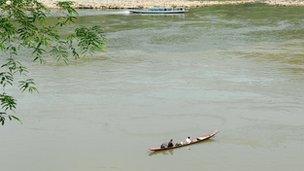 Laos will not press ahead with the construction of a controversial dam on the Mekong river until environmental issues have been resolved, state-run media report.
The government says two big issues - fish migration and sediment flow - will be addressed, the Vientiane Times says.
Critics say the hydro-electric dam project at Xayaburi would harm the river's eco-system.
Environmentalists say work has already began on the project.
"We plan to invite development partners and Mekong River Commission [MRC] member countries to visit the project site so they can see the actual development for themselves," Viraphonh Viravong, Laos deputy minister of energy and mines, was quoted by the Vientiane Times as saying.
"The Xayaboury project will develop one of the most transparent and modern dams in the world," he said, adding that the government had hired two independent consultants to review the project.
He said that changes were being planned to make sure that most of the fish would be able to pass through the dam.
In April, a multi-billion dollar contract was signed for a Thai company, CH Karnchang, to build the dam.
But critics fear the Xayaburi dam and power station project would open the door to a building spree, degrading the Mekong's fragile ecology and associated fishing industries.
The Lao government had earlier said it had not decided whether to go ahead with damming the Mekong.
Related Internet Links
The BBC is not responsible for the content of external sites.