East Timor poll: Xanana Gusmao's party wins most seats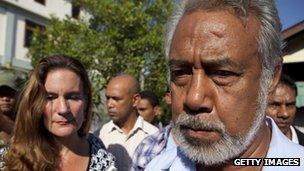 East Timor's Prime Minister Xanana Gusmao is set for a new term of coalition government after his party won parliamentary elections - but without an overall majority.
Provisional results suggested he would take around 30 seats in the 65-seat chamber.
The opposition Fretilin party was expected to win around 24 seats.
The UN praised the conduct of the poll, seen as a key factor in deciding whether peacekeepers leave this year.
The UN said that it would withdraw its troops if the parliamentary polls went smoothly, following peaceful presidential elections in April.
UN peacekeepers arrived in 2006 after widespread fighting and unrest.
East Timor gained independence from Indonesia in 2002 after three years of UN administration, which followed more than two decades of bloody guerrilla warfare during Indonesian rule.
Discussions on forming a new coalition are reported to have already begun.
The Democratic Party, a member of the current coalition, was coming third, with a likely eight seats.
Altogether 21 parties were contesting the election.
The campaign was dominated by economic issues, with the two main parties focusing their promises on what to do with the country's $10.5bn (£6.8bn) oil fund.
While the country is considered one of Asia's poorest nations, vast offshore oil and gas fields in the Timor Sea hold much potential.