Afghanistan gunmen attack police HQ in Kandahar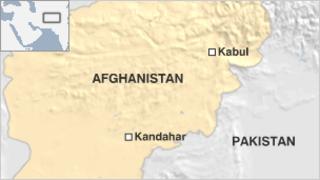 An insurgent attack on a police base in the southern Afghan city of Kandahar has ended after three gunmen were killed, officials say.
The gunmen entered an empty school, from where they started firing at the headquarters of the Afghan National Police.
Six people were injured in the attack, but Kandahar's police chief was unharmed, a government spokesman said.
The attack comes a day after six Nato troops were killed in the east.
Kandahar is considered to be the spiritual home of the Taliban, which has been leading attacks against Western forces and the Afghan government since it was ousted from power in 2001.
Earlier on Monday, three suicide bombers on motorcycles blew themselves up in another district of Kandahar province.
Two children were killed in those blasts, and six others wounded, according to provincial officials.