Asean seeks China agreement on South China Sea code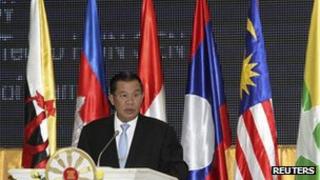 The Association of South East Asia Nations (Asean) is to seek China's agreement on rules governing maritime issues, after it adopted key elements of a code of conduct, officials say.
The pact agreed on Monday will address the resolution of disputes in the contested South China Sea.
China and several countries in the 10-nation bloc lay claim to disputed waters in the South China Sea.
Tension in the area is top of the agenda for a regional forum this week.
Foreign ministers of the group are meeting in the Cambodian capital before the arrival of their regional counterparts from 16 countries, including China.
US Secretary of State Hilary Clinton will also join the meeting in Phnom Penh later in the week.
Mrs Clinton, who will be leading a trade delegation, has called for ''progress'' on the code.
Asean officials will meet with Chinese officials to discuss and seek agreement on the code, said a senior official at the Cambodian foreign ministry.
Speaking at the opening of the meeting on Monday, Cambodian Prime Minister Hun Sen said the code of conduct was a priority at the meeting.
China's Foreign Ministry said on Monday that it was willing to discuss the code of conduct.
"When conditions are ripe China would like to discuss with Asean countries the formulation of the COC [code of conduct]," spokesman Liu Weimin said.
Maritime standoff
The Philippines has been leading the charge for Asean to persuade China to accept the code of conduct.
A maritime stand-off between China and the Philippines developed in a reef area known as the Scaborough Shoal in April, with China denying reports it was preparing for war at the height of the tension in May.
Both sides accused the other of intruding into territorial waters.
Vietnam was also angered by a recent call from China for oil exploration in disputed territory.
China has overlapping territorial claims with several Asean members - the Philippines, Vietnam, Malaysia and Brunei - in the resource rich area.
But Asean members are divided over what to do. The four affected countries want action but others, like Cambodia, are recipients of Chinese aid and investment, and reluctant to rock the boat, says the BBC's Guy DeLauney.
Asean was set up in 1967 by Thailand, Indonesia, Malaysia, the Philippines and Singapore. Brunei joined in 1984, followed by Vietnam in 1995, Laos and Burma in 1997 and Cambodia in 1999.