Singapore plans changes to mandatory death penalty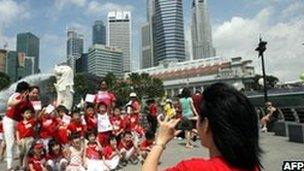 Singapore is proposing changes to its mandatory death penalty for drug trafficking and murder in some cases.
Under the proposed changes, the courts will have discretion in the sentencing of low-level drug couriers who co-operate with police.
In murder cases, the mandatory death penalty will only apply when there is an intention to kill.
Executions have been suspended since July 2011 as part of a year-long review.
The legislation is expected to be introduced by the end of the year and death row convicts would be able to seek resentencing.
The courts will have the discretion to either sentence the offender to death or life imprisonment with caning, instead of the mandatory death penalty, when ''two specific, tightly-defined conditions are met'', said Deputy Prime Minister Teo Chee Hean.
The two conditions are that the offender is only a courier and is not involved in the supply or distribution of drugs, and if the offender co-operates with authorities, or is mentally disabled.
However, the mandatory death penalty will continue to apply in most cases, particularly for those who manufacture or traffic in drugs and those who fund, organise or abet drug trafficking, said Mr Teo, who is also home affairs minister.
In homicide cases, the mandatory death penalty will only apply in cases where there is an intention to kill, Law Minister K Shanmugam told parliament.
There are currently 35 prisoners awaiting execution - 28 for drug offences and seven for murder.
Capital punishment will remain ''an integral part'' of the criminal justice system, said Mr Shanmugam.
''At the same time, the courts will be given more discretion in its application.''
Singapore maintains that its capital punishment system has kept murder rates at one of the lowest in the world and drug trafficking under control.
However, critics and human rights activists say that the island nation's mandatory death penalty was too harsh.
British author Alan Shadrake has criticised the law in his book Once A Jolly Hangman: Singapore Justice in the Dock.
He was sentenced to six weeks in jail and fined by a Singapore court last year.
''It's not the end of the death penalty. But it's a move in the right direction that no one really expected," Mr Shadrake told Reuters news agency by phone from Malaysia, where he is based.
Related Internet Links
The BBC is not responsible for the content of external sites.