Sri Lanka dengue workers on strike over murder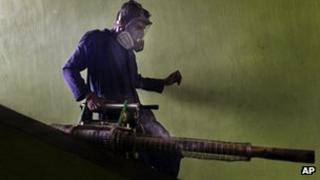 Public health inspectors in Sri Lanka have held a one-day strike in protest at the murder of a colleague as he checked a house for dengue fever.
The inspector was clubbed to death as he looked for stagnant water, a breeding ground for mosquitoes that carry the deadly disease.
The alleged attacker has been arrested, but the striking inspectors are demanding safer working conditions.
Dengue fever has killed at least 76 people in Sri Lanka this year.
The disease, which causes severe pain in the bones, has no known vaccine and the government says home inspections and anti-mosquito spraying are crucial to contain the spread of the disease.
'Tenacious mosquito'
Firdosi Mehta of the World Heath Organisation in Colombo says dengue is a major health problem.
"It is a very tenacious mosquito in which the eggs can lie dormant for about six months or so. So it's a difficult disease to control."
The Association of Public Health Inspectors says 1,700 of its members went on strike. Its secretary told BBC News that there had been similar attacks on health officials recently, and all inspectors should now work in teams.
He alleged that some attackers enjoyed political patronage and would not get punished.
The BBC's Charles Haviland in Colombo says the government is on a major drive to contain dengue, involving ten thousand security force personnel and many officials.
More than 50 people have been arrested for not taking proper precautions against the mosquitoes.
But our correspondent says the number of inspectors is limited and the inspectors' wish to work in teams for better security may be hard to fulfil.