Thai court to rule on new constitution plan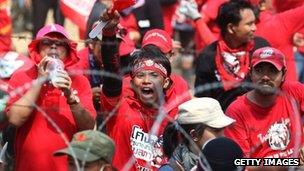 Thailand's constitutional court is set to issue a ruling on Friday which could spark a new round of political unrest.
Judges will decide whether efforts by the ruling Pheu Thai party to draft a new constitution are legal.
Those opposed to constitutional amendments argue that the process could undermine Thailand's revered monarchy.
If the judgement goes against Pheu Thai, the court could also dissolve the party - a move which correspondents say may trigger mass demonstrations.
The BBC's Jonah Fisher in Bangkok says that Pheu Thai's supporters would almost certainly rally against what they already see as interference in the democratic process.
A year ago Pheu Thai won more than half the seats in the general election with Yingluck Shinawatra becoming prime minister.
She is the sister of deposed former Prime Minister Thaksin Shinawatra. Although a decision to disband Pheu Thai may not bring her down, the constitutional court has already disbanded parties linked to her brother Thaksin twice in the past five years.
Security is reported to be heavy at the court ahead of the hearing.
Mr Thaksin was ousted by the military in a September 2006 coup and is now living in self-imposed exile in Dubai.
Rivalry between his supporters and opponents, known as red shirts and yellow shirts, has been a frequent cause of political unrest in the country.
The yellow shirts were behind the huge street protests that led up to the military coup of September 2006 and the ones two years later which led to Mr Thaksin's allies being forced from power.
In April 2010, the red shirts occupied Bangkok's historic and commercial districts in an attempt to topple the government. The demonstrations turned violent when the army tried to disperse protesters; at least 90 people were killed in clashes in total.