Government move sparks East Timor protests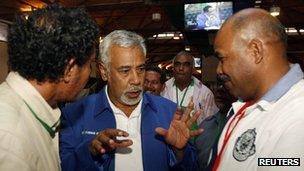 Protesters demonstrated in East Timor on Sunday after the ruling party, CNRT, said that opposition Fretilin would not be part of a coalition government.
People gathered in the capital Dili and nearby areas, throwing stones and burning cars and houses, police say.
One person died and several others were injured, the police chief said.
The 7 July parliamentary election was seen as a key test on whether UN peacekeepers could leave by year-end.
Sandra McGuire, the UN mission's communications chief in East Timor, said that they were not treating the violence as a major security incident.
"One of the interesting things is that the unrest was handled by the national police and handled well," she told Radio Australia.
She added that the situation was under control and order had been restored.
Prime Minister Xanana Gusmao's National Congress for Timorese Reconstruction (CNRT) party announced on Sunday that it was forming a coalition with two other parties.
Preliminary results suggest that the CNRT won the parliamentary election, but without an overall majority. Official results are expected on Tuesday.
Protesters gathered in the streets after the announcement, with police saying that groups started throwing stones and burning property.
Police confirmed that they fired warning shots and used tear gas to disperse the crowd, Agence-France Presse news agency reports.
"We have received information that one [person] has been killed in Hera," National Police Commander Longinhos Monteiro was quoted by AFP as saying, referring to a village outside the capital.
"A couple of people have been injured and seven houses have been burned."
East Timor gained independence from Indonesia in 2002 after three years of UN administration, which followed more than two decades of bloody guerrilla warfare during Indonesian rule.
UN peacekeepers arrived again in 2006 after widespread fighting and unrest. The UN says it will withdraw its peacekeepers if the parliamentary polls go smoothly, following peaceful presidential elections in April.
Altogether 21 parties contested the parliamentary election.
The campaign was dominated by economic issues, with the two main parties focusing their promises on what to do with the country's $10.5bn (£6.8bn) oil fund.
Related Internet Links
The BBC is not responsible for the content of external sites.