Taliban hits Pakistan polio campaign in tribal areas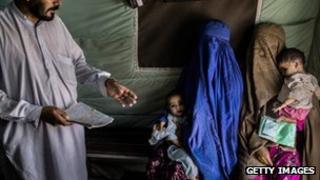 About 250,000 children in Pakistan's tribal areas will not receive a polio vaccine in the first immunisation campaign since a Taliban-imposed ban, officials say.
The Taliban said recently that vaccinations in North and South Waziristan were banned until the US ended drone strikes in the region.
Pakistan is one of only three remaining countries where polio is still endemic.
A World Health Organization spokesman described it as a setback.
"The impact is going to be serious if the ban is extended for a long time. We've been conducting campaigns in that area for a long time - this is the first campaign since the ban was announced," Elias Durry, senior co-ordinator for polio eradication at the World Health Organization told the BBC's Jill McGivering.
Officials did manage to get into the Waziristan tribal area to provide vaccinations in June, but say they are not optimistic they will be able to carry out vaccinations in this latest round.
"The campaign has been postponed in North and South Waziristan and Bara (district) of Khyber," Mazhar Nisar, an official at the prime minister's secretariat, told Agence France-Presse news agency.
The government says immunisation campaigns have been disrupted in recent years by a number of factors, including heavy flooding and military campaigns against the Taliban.
In previous years, militant leaders in Swat and other areas in Pakistan's restive north-west have spoken out against allowing the authorities to vaccinate children.
There has been opposition from some powerful clerics while a fake CIA vaccination campaign, which helped to locate Osama Bin Laden in the Pakistani city of Abbotabad, is thought to have had a detrimental effect as well.
Nearly 200 children were paralysed by polio in Pakistan in 2011 - the worst figures in more than a decade, according to the Lancet medical journal.
Pakistan says 34 million children under five will be targeted in the three-day campaign from Monday to Wednesday, AFP reports.