Whale warning over Western Australia gas project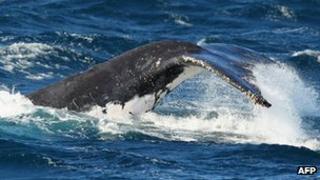 Conservationists in Australia have warned that a proposed natural gas hub project conditionally approved by the government could pose a threat to humpback whales.
Campaign group Sea Shepherd said the project would disturb the whales' breeding grounds in Western Australia.
But officials say the project's "strict conditional approval" will minimise risks to wildlife.
A consortium led by Woodside is behind the Browse LNG project near Broome.
Sea Shepherd said the construction of a port and associated shipping traffic would disturb the whales' sensitive breeding grounds off the north-west coast.
The group are sailing a boat, the Steve Irwin, from Melbourne to the area to raise awareness of the issue.
The area north of Broome is "the biggest humpback nursery in the world," the group said in a 12 July statement .
"Constructing the gas factories and port would mean noise pollution, destruction of habitat and also boat strikes to whales."
Indigenous groups, which regard the humpback whale as a sacred animal, have also pledged support for Sea Shepherd's conservation efforts, local media report.
Australia's Environmental Protection Agency (EPA) announced on Monday that it had recommended the James Price Point LNG precinct project "for strict conditional approval".
"The level of complexity in assessing this proposal was unprecedented," said EPA Chairman Paul Vogel.
"The assessment has been incredibly thorough and included wide consultation with community members and scientific experts, site visits and meetings with interest groups."