Teenaged Tibetan monk 'self-immolates' in China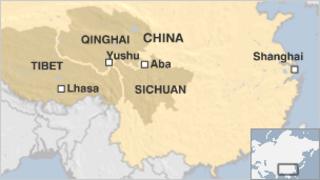 A teenaged Tibetan Buddhist monk has burned himself to death in south-west China, the latest in a series of such protests against Chinese rule, rights activists have said.
The monk, 18, is reported to have set himself alight in Sichuan province.
Tibetan exiles said local people blocked a bridge to stop police from moving in after the incident.
About 42 Tibetans are believed to have set themselves alight since March 2011 in Tibetan-inhabited parts of China.
Many of them are believed to have died.
Chinese state media has confirmed some incidents but not all. Foreign media are banned from the region, making reports hard to confirm.
'Encouraging separatism'
The monk in Tuesday's incident was identified as Lobsang Lozin.
He set himself ablaze and died immediately in Bharkham county in Sichuan province as he marched towards a government office, the India-based Central Tibetan Administration - or government-in-exile - said in a statement.
Local government and police in Bharkham, known as Maerkang in Chinese, could not immediately confirm the suicide.
But the government-in-exile said that a large group of armed police were moving towards Bharkham following the incident.
Activists say that Mr Lobzin was a member of the Tsodun Kirti Monastery in Bharkham. Two other monks from the same monastery set themselves on fire in March, they say.
Most self-immolations occur in ethnically Tibetan areas outside Tibet.
China's leaders accuse the Dalai Lama, the Tibetans' exiled spiritual leader, of inciting the self-immolations and encouraging separatism.
He rejects this, and both activist groups and the government-in-exile say the self-immolations are protests against tight Chinese control of the region and religious repression.