Cambodia shuts schools to stop EV71 virus spreading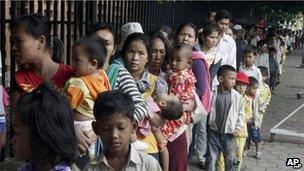 Cambodia has closed schools weeks ahead of the summer holidays to prevent the spread of a virus that has killed dozens of children since April.
Officials say that they closed kindergarten and primary schools in reaction to parental concern about the spread of the EV71 virus.
EV71 is one of the triggers of hand, foot and mouth disease.
But the World Health Organization said closing schools "could create unnecessary panic".
The mystery illness had caused panic among parents. The World Health Organization (WHO) and Cambodia's Ministry of Health eventually identified the virus as EV71.
For most children, the virus causes nothing more than a few days' discomfort. But for those already weakened by malnutrition or diarrhoea, it can become more serious if not properly treated.
Good hygiene prevents the virus from spreading, health experts say.
Mak Vann, Education Ministry secretary of state, said that they did not have to wait two more weeks to close the schools before the start of the holidays.
"This is to prevent the spread of the disease," he was quoted by news agency Agence-France Presse as saying.
"Parents have voiced concern that the disease could infect their children."
But a WHO spokesman told the BBC that it did not recommend the school closures as "it could create unnecessary panic".
The WHO said matters were under control and no new cases of EV71 have been recorded.