Burma TV marks Suu Kyi father's Martyrs' Day memorial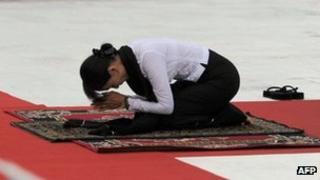 Burmese state TV has shown live footage of a ceremony honouring the father of opposition leader Aung San Suu Kyi, in what is seen as another sign of change.
The ceremony, marking the 65th anniversary of Gen Aung San's assassination, was also attended by a high-level government representative.
Aung San is seen as the driving force in Burma's independence from Britain.
Burma's military junta downplayed the event for many years, but a process of reform is now under way in the country.
Ms Suu Kyi, the pro-democracy leader who spent much of the past two decades under house arrest, laid flowers at her father's tomb in Rangoon to mark what is known as Martyrs' Day.
Flags were flown at half mast and a period of silence was observed. One of Burma's two vice-presidents, Sai Mauk Hkam, was in attendance.
Gen Aung San was 32 years old when he and several members of his interim government were assassinated by political opponents in 1947.
The military ruled Burma for decades, but reforms have been taking place since polls in November 2010 that brought a transition from military to nominally civilian rule.
Ms Suu Kyi was freed from house arrest in late 2010 and made her debut in parliament earlier this month, after winning a seat in an April by-election.