Pakistan police to protect Afghan runaway couple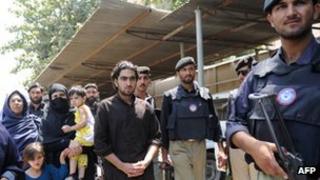 A Pakistani judge has ordered police to protect a young Afghan couple married in secret who are fighting deportation.
The young woman, Miriyam, says her parents tried to force her to marry her brother-in-law after her sister died.
Miriyam and her husband, Hewad, both 22, were arrested by Pakistani police three weeks ago after entering the country illegally.
The couple argue that if they are forcibly returned to Afghanistan, her angry relatives will kill them.
Analysts say the court's decision to protect the couple in these circumstances is rare.
Women's rights in Afghanistan are in jeopardy, activists argue, as Nato troops prepare to leave the country in 2014 and Kabul seeks a deal with the Taliban, who repressed women during their time in power from 1996-2001.
'Serious threats'
The couple say that they entered Pakistan illegally about three weeks ago and had a secret love marriage.
They went to the leafy town of Abbottabad in north-western Pakistan, where US troops killed Osama Bin Laden in May 2011.
They were later arrested by the Pakistani police for not having valid travel documents. On Monday they appeared before a judge in Peshawar to plead their case.
The BBC's Jill McGivering says that the case has been complicated because an Afghan man gave contradictory evidence in court, stating that Miriyam was already married to his brother and had two children by him.
But our correspondent says that the judge's ruling suggests that he believed the young couple's story.
"The couple should be provided proper accommodation in Peshawar and foolproof security because of threats to their lives," Judge Dost Muhammad Khan said.
He ordered police to provide them with accommodation, food, clothes and proper security.
His ruling came as a relief to the runaway lovers.
"I have serious threats to my life from Miriyam's relatives, from her parents and her brothers," Hewad told the AFP news agency.
"I am sure they can harm me here and if we are sent back to Afghanistan, they will simply shoot us."
The Afghan man who testified against them, meanwhile, was arrested.