Gunmen attack Nato supply convoy in Pakistan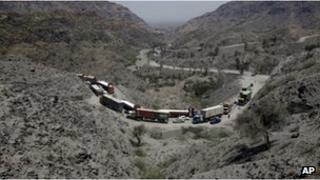 Gunmen in north-west Pakistan have attacked a convoy carrying supplies to Nato troops in Afghanistan.
Two armed men on a motorbike opened fire on vehicles as they headed towards a border crossing in Khyber region, officials said. A driver was killed.
It is the first such attack since Pakistan agreed to reopen routes three weeks ago after a seven-month blockade.
Pakistani officials were reacting to a US drone strike last November which killed 24 soldiers.
The Taliban oppose Pakistan's support for the US-led mission in Afghanistan.