Sleepy Taiwan island plans casino
By Cindy Sui
BBC News, Matsu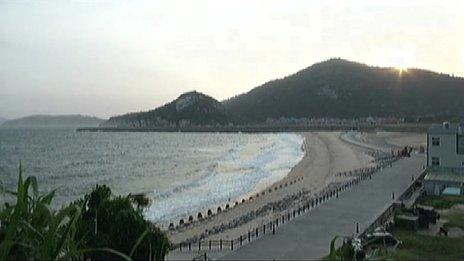 Calm waves roll up onto the shores of Matsu as birds chirp. It is quiet throughout the day practically everywhere on this island chain, located northwest of mainland Taiwan.
But this peaceful atmosphere could change soon.
The economy of Matsu once depended on the 50,000 soldiers stationed here when it was an important military outpost in Taiwan's defence against a Communist takeover during the Cold War.
But now only 5,000 soldiers live here, partly because of improved relations with China. The population of civilians is around the same - many young people have moved to mainland Taiwan for jobs.
That is why a majority of Matsu's voters recently agreed in a referendum to allow casinos to be built here for the first time. It is part of the long-held dream of Taiwan's Kuomintang ruling party to build a casino industry in Taiwan, after seeing the success of Macau and Singapore.
Many of Matsu's residents consider casinos a necessary evil. For decades, they have felt neglected, waiting for better transport, including a bigger airport that would allow planes to land in foggy and windy weather.
"It's very important for us to have more Chinese tourists here. It will help our economy, create more jobs and improve our infrastructure, especially by building a bigger airport," said Hung Hsien-chang, chief engineer of the local tourism bureau.
Even though relations with China have improved to the best level since the war ended, the islands see only about 7,000 Chinese tourists a year. Matsu wants a lot more and sees casinos as the easiest way to get them - the operators, not government, will have to foot the investment bill.
On top of a hill, Mr Hung points to an island across the water where one operator, Weidner Resorts Taiwan, wants to build a huge casino resort and a new airport to accommodate the tourists.
There are few buildings on the island now. But its green hills could be dotted with high-rise hotels soon. Weidner expects 4.5m Chinese tourist-gamblers a year. Many could easily take the half-hour ferry ride over.
An influx of Chinese gamblers could dramatically change Matsu's calm atmosphere. But promises of convenience and prosperity have won over the local residents.
Weidner Resorts has also promised to build a college town, as well as a causeway linking the two main islands. It estimates the casinos will earn NT$10bn ($344m; £221m) a year in gaming and tourism revenue and has offered to give Matsu residents as much as NT$80,000 a month in subsidies.
But not everyone is convinced. Stationary store owner Chen Shu-lian is worried about the dangers of relying economically on a China that is undemocratic and unpredictable.
"We can't be sure about Communist China's policies. Tomorrow they may suddenly decide not to support our gaming industry and not spend money here. This will hurt us," said Mr Chen.
That happened in 2009 in southern Taiwan's Kaohsiung city, which suddenly saw a sharp drop in Chinese tourists. It was widely believed that Beijing had simply ordered Chinese travel agencies to stop organising tours to the city, out of anger that it hosted the Tibetan spiritual leader the Dalai Lama, despite Beijing's objections.
There are fears the same could happen in Matsu. The islands lack the necessary infrastructure to accommodate so many visitors. Water and electricity may have to be supplied from China, which is only 20 km away - much closer than mainland Taiwan.
Relations with China were not always this close. At Matsu's war museum, leaflets and other propaganda material sent by China's artillery shells in the 1950s and 60s are on display. In them, China makes relatives urge those who had fled to Taiwan to return to the mainland.
A video at the museum shows soldiers loading up artillery shells to defend the islands against China's attacks.
Su Mei-bao, 58, still remembers those tense times. He revisited a bomb shelter where he hid with other villagers from Chinese artillery. It is now a storage facility. But he describes the panic as everyone rushed in to take cover.
"Thirty to 40 people would seek shelter in here. We would stay here for an hour. Some of my friends and neighbours were injured and handicapped by the debris from the buildings that were hit," Mr Su said.
But times have changed. Like many Matsu residents, he has put the war in the past.
"Back then it was two political parties [the Nationalists and Communists] feuding with each other, it actually had little to do with us ordinary people," he said.
Mr Su operates a bed and breakfast hotel which also sees Chinese tourists.
But the relaxed atmosphere now masks the fact that, although ties are at their best since the war ended, Matsu is still on the front line. China continues to sees Taiwan as a part of its territory, and wants it back one day. No peace treaty has been signed.
It still has 1,500 missiles targeted at Taiwan. That makes people here worried. But Matsu's residents, like many Taiwanese people, believe they have no choice but to build closer economic ties with their giant neighbour.