Burma's Suu Kyi urges minority rights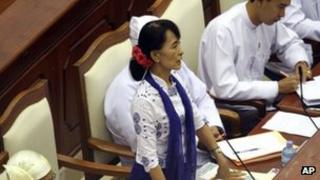 Burmese opposition leader Aung San Suu Kyi has called for laws to protect the rights of ethnic minority groups in her first statement in parliament.
She said such laws were important for Burma to become a truly democratic nation of mutual respect.
Burma has undergone a series of political reforms initiated by the military-backed government.
But some parts of Burma are still hit by conflict and unrest, most recently in Rakhine state.
"To become a truly democratic union with a spirit of the union, equal rights and mutual respect, I urge all members of parliament to discuss the enactment of the laws needed to protect equal rights of ethnicities," she said, in support of a motion by a ruling party MP.
Poverty in ethnic minority areas also needed to be addressed, she said.
Ms Suu Kyi, who was freed from house arrest in late 2010, was elected to parliament in by-elections in April.
Peace deals have been reached with a number of Burma's ethnic groups, many of whom battled the military junta for years in pursuit of greater autonomy. But fighting is continuing in Kachin state.
Ms Suu Kyi's speech also comes a month after deadly clashes in parts of Burma's western Rakhine state between majority Buddhists and minority Muslims, sparked by the rape and murder of a young Buddhist woman.
Aung San Suu Kyi made no specific mention of the Muslim Rohingya people in her speech, and has to date remained relatively quiet on the issue.
Asked in June whether Rohingya should be regarded as Burmese citizens, she said: "I do not know", saying Burma should clarify its citizenship laws.
In a report last week, human rights group Amnesty International said Muslims in western Rakhine state had been subjected to attacks and arbitrary arrests in the weeks since the violence - claims the government described as "groundless and biased".
The Burmese government says they are relatively recent migrants from the Indian sub-continent. Neighbouring Bangladesh already hosts several hundred thousand refugees from Burma and says it cannot take any more.