PNG leaders O'Neill and Somare form joint government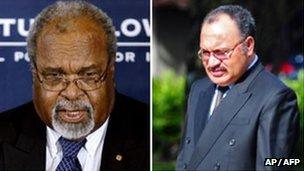 Papua New Guinea PM Peter O'Neill has announced that he will be heading the next government with the support of former bitter rival Sir Michael Somare.
Mr O'Neill said he was forming a coalition government with Sir Michael, even as the June general election results have yet to be finalised.
The two men stood for prime minister during the elections.
They have been involved in much political wrangling since August, when Mr O'Neill became prime minister.
Parliament first elected Mr O'Neill prime minister last year after declaring the post vacant while Sir Michael, the 76-year-old long-time leader, was out of the country receiving medical treatment.
But the Supreme Court said the move was illegal - a decision it restated in May. A lengthy tussle for the top job has since ensued.
Mr O'Neill's People's National Congress party is expected to win most of the seats in parliament, in an election that saw 3,500 candidates standing for 100 seats from 23 June to 6 July. The counting of votes is still ongoing.
"I can assure our people and the country that we have the numbers now to form the government," Mr O'Neill said.
"I want to take this opportunity to thank our founding father of our country, Grand Chief Sir Michael Somare, for joining us," he said.
"It is important for our country that we provide a stable government. You don't want disruptions to happen in this country," Sir Michael said.
The general elections were Papua New Guinea's eighth since independence from Australia in 1975.