Philippines' ex-leader Gloria Arroyo free on bail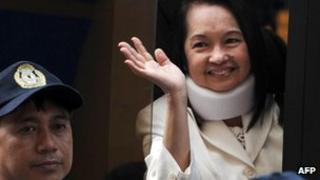 Former Philippine President Gloria Arroyo has left a military hospital where she has been detained for eight months after being released on bail.
A judge ruled that evidence linking her to electoral fraud charges was too weak to keep her in detention.
Mrs Arroyo is also facing a separate charge of plunder in another case.
The former president left the hospital in Manila wearing a neck brace after her lawyers posted bail of 1m pesos ($23,700; £15,300), reports said.
She passed a stream of angry protesters and gained at least temporary freedom, says the BBC's Kate McGeown in Manila.
The ruling is a major setback for Mrs Arroyo's successor as president, Benigno Aquino, who has said that bringing her to justice is a key part of his anti-corruption campaign, our correspondent says.
Mrs Arroyo was not allowed to leave the country and had to seek the court's permission if she wanted to visit her district in northern Pampanga province, reports said.
Gloria Arroyo was arrested in November 2011 after trying to leave the country to seek medical treatment.
In February, she pleaded not guilty to electoral fraud over accusations that she rigged a 2007 election in favour of a candidate.
If convicted Mrs Arroyo, who was president from 2001 to 2010, could face life in prison. But it could be some time before the verdict is known.
In March, a court issued arrest warrants for her and her husband, Jose Miguel Arroyo, for corruption charges over a controversial deal for a government contract with a Chinese telecommunications company.
Both have denied the charges. Mr Arroyo is out on bail.