Burma sentences Thai farmers for farming over border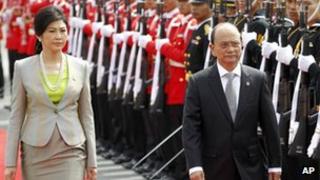 A group of Thai farmers has been sentenced to jail for illegally farming in Burma, according to Thailand's foreign ministry.
Burma had accused the 92 men and women of running a rubber plantation on the wrong side of the border.
A court sentenced them to three years in jail for immigration offences and six months for cutting down forest.
News of the sentence comes after Burma's President Thein Sein's first official trip to Thailand.
The Burmese army arrested the Thai nationals for "illegally operating" 1,500 acres (607 hectares) of rubber plantations earlier this month.
Investigations are going on as to why the farmers had a large number of vehicles and a cache of weapons in their possession when they were arrested.
Among the weapons reportedly seized were different types of guns, bullets and a grenade. There were also three bulldozers and more than 30 vehicles.
The BBC's Jonah Fisher in Bangkok says the farmers' plight was raised during the Burmese president's visit, apparently without success.
Thai authorities argue that this is just a case of misunderstanding and the charges should have been dropped.
Burma's decision to still press ahead with the case reveals a continued frostiness in cross-border relations, our correspondent says.