Tajik President Rakhmon halts Gorno-Badakhshan attack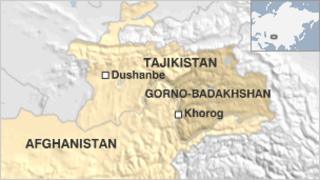 Tajik President Imomali Rakhmon has called off an offensive against forces of opposition strongman Tolib Ayombekov after fighting on Tuesday killed at least 42 people, officials have said.
The government believes that Mr Ayombekov's men were involved in the fatal stabbing of a top security forces official on Saturday.
It has insisted that his killers should be handed over immediately.
It also wants all armed groups in the Gorno-Badakhshan region to be disarmed.
"The decision [to call off the offensive] was taken to avoid further bloodshed, after [rebel] field commanders promised to make concessions," a source in the presidential administration told the Reuters news agency.
He declined to say what concessions had been promised.
'Decomposition risk'
Security forces have demanded the handover of four rebels, including Mr Ayombekov, for their alleged role in the murder of regional security head Abdullo Nazarov.
Defence Minister Sherali Khairulloyev travelled to the region for talks with rebel fighters and offered an amnesty to those fighters who hand in their weapons, a high-ranking security official told Reuters.
A message from the president to the inhabitants of Gorno-Badakhshan said that the ceasefire would be indefinite to ensure the evacuation of the wounded and dead whose bodies risked "decomposing in the streets".
Official figures say that 12 government troops and 30 militants were killed in Tuesday's military operation close to the Afghan border.
Some unconfirmed reports spoke of a far higher level of casualties, with dozens of people being killed - although the security services have insisted that there were no civilian casualties.
Correspondents say that the violence in the Pamir Mountains region was the worst internal unrest for two years in Tajikistan, which is still recovering from the 1992-97 civil war.
A former Soviet republic, the country was plunged into the war almost as soon as it became independent from the Soviet Union in 1991. It is Central Asia's poorest nation.