North Korea floats propaganda leaflets to South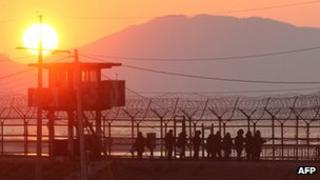 North Korea has dropped propaganda leaflets over the border for the first time in 12 years, South Korea's defence ministry says.
Thousands of leaflets attacking South Korea's government had been collected since 21 July, officials said, after being floated across using balloons.
The two Koreas remain technically at war following the 1950-53 Korean conflict, which ended in an armistice.
Both have been engaged in propaganda efforts over the years.
"North Korea used balloons to send the leaflets, which were found scattered in border areas," a South Korean ministry official was quoted by Agence France-Presse news agency as saying.
They criticised South Korean President Lee Myung-bak's government and accused it of a plan to send a defector to destroy a statue of North Korea's late leader Kim Il-sung, Yonhap news agency said.
The defence ministry said it was the first time that North Korea had sent propaganda leaflets via balloon since 2000.
Tensions between the two Koreas have risen under Mr Lee, who has linked the provision of aid to progress on denuclearisation.
South Korean activists regularly float propaganda leaflets across the border. The government is reported to have sent leaflets after the shelling of a border island in November 2010.
As well as leaflets, the propaganda fight between the two Koreas over the years has included the use of loudspeakers on the border and display boards showing messages.
The leaflets from peace activists in South Korea usually contain messages about freedom and democracy, as well as criticism of North Korean leaders.