Pakistan bomb: 'Seven killed' in Bajaur market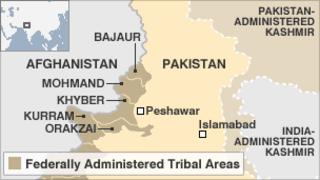 A bomb has killed at least seven people in the north-western Pakistani tribal region of Bajaur, reports say.
The explosion tore through a busy market in the Salarzai area, leaving more than 20 others injured.
It is not clear who carried out the attack. Bajaur borders the Afghan province of Kunar where the Taliban have strongholds.
Correspondents say the militants have often attacked anti-Taliban tribal militias in the Salarzai area.
Bajaur has seen some of the worst of the fighting between Pakistani government forces and Taliban militants in recent years.
The army has repeatedly declared the area to be secure, only for the militants to prove them wrong.
Islamabad says the Taliban find sanctuary on the Afghan side of the border and launch attacks against targets in the Pakistani tribal regions of Dir, Bajaur and Mohmand.
Kabul and Nato accuse Pakistan of not doing enough to stop militants launching attacks from Pakistani territory against targets inside Afghanistan.