Australia and New Zealand restore full ties with Fiji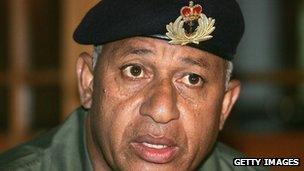 Australia and New Zealand have agreed to restore full diplomatic ties with Fiji after expelling each other's top envoys in 2009, officials say.
The three countries will exchange high commissioners again, they said, as Fiji moves towards elections in 2014.
Commodore Voreqe "Frank" Bainimarama seized power in Fiji in a 2006 coup, ousting elected PM Laisenia Qarase.
He has not held elections since, despite calls from the international community.
Fiji remains suspended from the Commonwealth and is the subject of international sanctions.
The decision came after a meeting of the three countries' foreign ministers in Sydney.
"The ministers agreed to exchange high commissioners to ensure channels of dialogue between the respective countries were open and effective," said a statement from the Australian foreign ministry.
The ministers also agreed to be more flexible with travel sanctions "on a case-by-case basis".
Fiji expelled the Australian and New Zealand high commissioners on 3 November 2009, accusing them of attempting to interfere in the judiciary - a move they reciprocated a day later.
The two nations have been critical of Mr Bainimarama's failure to hold elections as promised and return the country to democracy.
Australian Foreign Minister Bob Carr said the diplomatic move had been possible because of "the work that's taken place towards a constitution, their work on the electoral rolls, their work towards an election in 2014".
"We're going to continue to watch developments in Fiji very carefully but we have acknowledged the positive progress that has been made," he said.
Related Internet Links
The BBC is not responsible for the content of external sites.