Pakistan ISI chief Zaheerul Islam makes US visit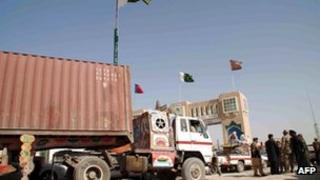 Pakistani spy chief Lt Gen Zaheerul Islam is to make his first trip to the US since assuming his post in March.
An army spokesman told the BBC he was expected to meet his counterpart, CIA director Gen David Petraeus. Reports say drone strikes are on the agenda.
Lt Gen Islam took the helm of Pakistan's Inter-Services Intelligence (ISI) spy agency amid a marked deterioration in relations with the US.
But a recent move by Pakistan to reopen Nato supply routes has eased tensions.
Pakistan shut down crucial overland routes supplying Nato troops in Afghanistan after a US-led Nato air strike killed 24 Pakistani soldiers at a checkpoint close to the Afghan border last November.
At the time, Afghan officials said that Nato forces had been retaliating for gunfire from the Pakistani side of the volatile border, but Pakistan rejected that claim.
The row over supply lines was hugely damaging to relations between the uneasy allies, with both sides unwilling to back down.
But earlier this month, Pakistan allowed the reopening of the routes after the US apologised for the incident.
And on Tuesday they signed a deal that cements the previously verbal agreement allowing Nato to supply its troops in Afghanistan through Pakistan.
Drones on agenda
Correspondents say Lt Gen Islam's three-day visit from 1-3 August is just the latest indication of a thaw in relations.
Pakistan's Interior Minister Rehman Malik described Lt Gen Islam's trip as a "service to service bilateral visit".
He is also quoted as saying that the ISI chief would push the US to put an end to unilateral drone strikes and work out a common strategy with Pakistan.
US drone strikes in Pakistan are very controversial. Pakistan says the drone attacks fuel anti-US sentiment and cause civilian casualties, although militants are also killed.
The US insists the strikes are effective.
Lt Gen Islam was born into a military family and was the army commander in Karachi before taking up the post of ISI chief.
He has also served as deputy head of the ISI agency in the past.