UN urges Philippines to pass free contraceptives bill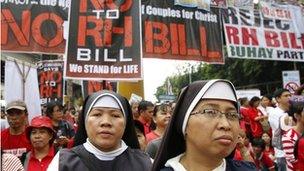 The United Nations has urged the Philippines to pass a bill that will allow the government to provide free contraceptives.
A UN official said passing the law would significantly reduce the maternal mortality rate, which is one of the highest in south-east Asia.
But the bill has met strong opposition from the Catholic church, with priests leading the protest against it.
They say introducing the law would corrupt moral values in the country.
More than 80 percent of the Philippines population is Catholic.
On Saturday, bishops led a rally of thousands of people urging the rejection of the Reproductive Health Bill.
President Benigno Aquino supports the planned legislation, which would also encourage families to have no more than two children.
Ugochi Daniels, from the UN Population Fund, said she remained "cautiously optimistic" that President Aquino could drum up enough support to pass the bill on Tuesday.
Ms Daniels said she was "very concerned" about the rising number of maternal deaths.
According to the government's 2011 Family Health Survey, the maternal mortality rate rose 36 percent to 221 deaths per 100,000 live births between 2006 and 2010.
Many of those giving birth were girls between 15 and 19 years old, she said, and most were from poor families.
She urged lawmakers to pass the bill and "stop failing our young".
Tuesday's vote will be the fourth attempt to pass a bill dealing with family planning issues.
The last three bills have been blocked by the Church and its political allies.
Contraceptives are freely available in the Philippines, but are expensive, our correspondent in Manila says.
For those on low incomes, a packet of condoms can cost as much as a weekly food bill, she says.
Many of the country's maternity hospitals are struggling to cope with the number of births - in the Jose Fabella Hospital in Manila it is common for two, or even three women, to have to share a bed, she says.
Our correspondent adds that many senior members of society - politicians, media commentators, businessmen - are openly siding with the bishops.
And one of the country's most popular and influential figures, boxer-turned-congressman Manny Pacquiao, has joined the debate, saying contraception is against God's will.
Related Internet Links
The BBC is not responsible for the content of external sites.