Karzai accepts Afghan parliament's sacking of ministers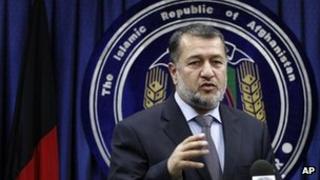 Afghan President Hamid Karzai has accepted parliament's dismissal of two of his most senior ministers following a vote of no confidence in them.
The interior and defence ministers were criticised for failing to prevent cross-border shelling from Pakistan, and other security lapses.
Mr Karzai's office said he had thanked the pair for "their hard work and dedication".
They will remain in their posts until replacements are found.
Parliament voted to remove Interior Minister Besmillah Mohammadi and Defence Minister Abdul Rahim Wardak, who were also questioned by MPs over corruption allegations, on Saturday.
Mr Karzai has been criticised in the past for failing to act on the results of no-confidence votes and for keeping ministers in their jobs in an acting capacity.
Both the interior and defence minister are well-known to the international community, and the vote to remove them comes at a critical time for Afghanistan, our correspondent in Kabul says.
Nato-led forces are working towards withdrawing from the country by the end of 2014.