Australian art critic Robert Hughes dies aged 74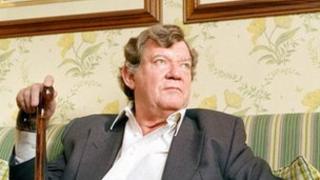 Influential Australian art critic and writer Robert Hughes has died in New York after a long illness. He was 74.
Mr Hughes made major contributions to the world of art and the telling of Australian history.
In 1980, he presented the landmark BBC TV series The Shock of the New - an insight into the development of art since the Impressionists.
The New York Times newspaper once described him as the most famous art critic in the world.
Outspoken
Mr Hughes died in the Bronx's Calvary Hospital, his wife Doris said in a statement.
"He had been very ill for some time... Details of the funeral and memorial service will be advised in due course," the statement added, without giving further details.
Australian lawmaker Malcolm Turnbull, who is married to Mr Hughes' niece, tweeted shortly afterwards: "Farewell my dear old mate. Rest in peace."
Born in Sydney, Robert Hughes became part of the 1960s generation that moved to Europe and the United States to seek out excitement and new careers.
He began writing for the Daily Telegraph, Spectator and Times, before moving to New York to become the art critic for Time magazine.
Although his relationship with his homeland was strained, he never gave up his citizenship.
In 1987, wrote his international bestseller The Fatal Shore, examining the harsh life of convicts during early European settlement of Australia.
Outspoken, sometimes abrasive, Mr Hughes became a prominent supporter of Australia's Republican movement, the BBC's Duncan Kennedy in Sydney reports.