Philippine floods: Eyewitness accounts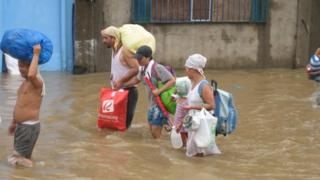 Flooding caused by torrential rain has brought parts of the Philippine capital, Manila, to a stand-still. Schools and offices are closed, and at least eight people have been killed in a landslide.
Here people living in affected areas describe the situation.
Sara Suguitan, Balanga, Bataan
I'm in Balanga, Bataan, a city some 2.5 hours northwest of Manila. This area is hit worse than Metro Manila [Manila and surrounding areas]. Bataan has 12 towns, three of which are submerged in water. The province has just been declared under a state of calamity.
Offices and roads are closed due to the non-stop rain. Power and phone lines have been off since yesterday. I can't make calls and send texts - I have internet. That's how I get my news - via social media and radio.
Ironically there is rainwater but drinking water is dwindling. And if you're used to filtered water being delivered, well now is not the time to expect a delivery. And what's more is the government says this is not a typhoon but a mere trade wind. How can it not be a typhoon?
Entry and exit points to the North Luzon expressway, the main thoroughfare that connects Manila to northern provinces, has just been closed now, after some thousands of motorists were stranded in waist-deep waters.
Vehicles on the expressway broke down and people cannot be rescued because of the lack of proper planning and the very high risk.
Like in 2009 [during Typhoon Ketsana] rescue efforts are done via social media, what with power and phone lines cut, but in cities outside the Metro like Balanga City, social media is not an integral part of daily life and so relief will begin probably when the sun comes up.
When I woke up this morning, the sky was so dark it looked like dusk. It's been an endless dusk. The rain never stops, it's almost deafening. All you hear is rain and thunder, and the only time there is light is when a blinding lightning strikes. I heard it's going to be like this until tomorrow.
Justin Robertson, Quezon City, Manila
It's been raining continuously for over 24 hours now. There is widespread flooding across Manila and in some of the low-lying areas the water is chest high.
We live on a hill and at the bottom of the hill there is a junction which is covered in water. Most offices and schools are closed today and we've decided to remain indoors as the main roads are either flooded or blocked with broken-down vehicles.
We are lucky that we stayed home last night. We have a few friends who've been out, got stranded and had to find temporary shelter. A relative of ours spent the night at her son's dormitory and this morning she discovered she couldn't leave as the first floor was completely flooded.
People here say they haven't seen so much rain since Typhoon Ketsana in 2009. And the forecast is there'll be yet more rain.
Jan Paul Anthony Zabala, Rizal Province
I live in Angono in Rizal Province near Laguna Lake. The flood water here is knee-high and keeps on rising. The rain stopped for a bit and the water retreated somewhat, but an hour later it started again and it is still raining.
Our biggest worry is that the lake will get full and the overflowing water will reach our village. Some people who live nearby, especially near the lake, were evacuated to safer areas.
We can't go outside to buy food and supplies are running low. Local authorities have been listing names and the number of family members in each house in our village. They said the municipality officers will be giving some relief goods to us.