Tibetan woman dies after setting herself alight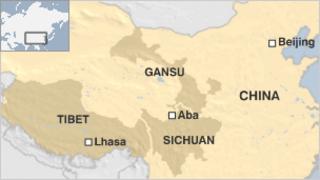 A Tibetan woman died on Tuesday after setting herself alight in China's north-west Gansu province, state-run Xinhua news agency reports.
The report said Drung Gertso, 26, had "intermittent mental disease" and was suicidal "over family conflicts".
More than 40 Tibetans have set themselves on fire since March 2011 in apparent protest against Chinese rule.
A rights group said another man set himself alight in Sichuan province on Monday. His condition was not known.
Chinese state media has confirmed some of the self-immolations but not all. Foreign media are banned from the region, making reports hard to confirm.
Drung Gertso set herself alight at the Tso Monastery in the Gannan Tibetan autonomous prefecture, Xinhua reported, citing a statement from the Communist Party in Gannan.
"Drung Gertso had intermittent mental disease, and she used to tell some of her relatives that she would commit suicide owing to frustration over family conflicts," Xinhua said.
A report from London-based group Free Tibet, however, identified her as 26-year-old Dolkar Kyi.
Free Tibet said she shouted slogans calling for freedom in Tibet and the return of the Dalai Lama, the exiled Tibetan spiritual leader.
The group also identified the man who set himself on fire in Sichuan province as 21-year-old Lobsang Tsultrim from Kirti monastery in Aba county, which has been the scene of many of the self-immolations.
"Local authorities drove him to the county hospital. He was removed after 30 minutes and his current well-being and whereabouts are unknown," Free Tibet said in a statement.
Most of the self-immolations have taken place in ethnically Tibetan areas outside Tibet. China's leaders blame the Dalai Lama, the Tibetans' exiled spiritual leader, for inciting the self-immolations and encouraging separatism.
He rejects this, and both activist groups and the Tibetan government-in-exile say the self-immolations are protests against tight Chinese control of the region and religious repression.