Philippines ramps up flood relief efforts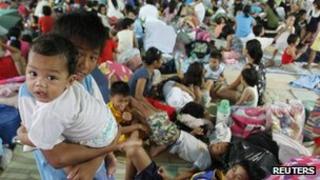 Efforts are under way in the Philippines to help hundreds of thousands of people affected by deadly floods that have paralysed the capital, Manila, and nearby areas.
Officials appealed to volunteers to help distribute supplies to more than 300,000 people at emergency shelters.
At least 19 people have died after a month's worth of rain fell over two days, causing landslides and floods.
A state of calamity has been declared in parts of Manila and other areas.
More than two million people across 30 cities in 16 provinces have been affected by the floods, according to a report from the government's disaster management agency.
"Of the above total affected, 119,751 families/580,079 persons are currently served inside and outside evacuation centres," it said.
More than 300,000 people were being housed in 630 evacuation centres, while other displaced people were with friends and relatives.
Social Welfare Secretary Corazon Soliman was quoted by Agence France Presse news agency as saying that more volunteers were needed.
"We have the food but we need to pack them, deliver and distribute them in this massive operation," she said.
"Most local government units do a community kitchen, but the volume of evacuees is so big that they have been overwhelmed. We are also appealing for more medicines, blankets, mats and, more importantly, dry clothes."
President Benigno Aquino has ordered the country's trade department to make sure that prices of basic goods remain unchanged in affected areas, local media report.
A number of roads in the capital have remained flooded. Dams and waterways are also still being closely monitored as they reached critical levels, the government said.
The floods left people stranded in their homes all over the city. Rescuers have been trying to reach them by boat but some have refused to leave, scared their possessions will be taken by looters.
Manila and the northern Philippines have been hit by severe weather since Typhoon Saola struck just over a week ago.
In September 2009 Typhoon Ketsana hit the Philippines, causing flooding that killed more than 400 people.