South Koreans swim to disputed islands amid Japan row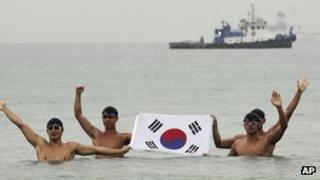 More than 40 South Koreans have begun a relay swim of more than 200km (124 miles) to islands also claimed by Japan amid a serious diplomatic row between the two neighbours.
The swimmers are headed for the islands known as Dokdo in South Korea and Takeshima in Japan.
Their swim follows the first-ever visit of a South Korean president to the islands on Friday.
The visit has infuriated Japan, which recalled its ambassador to South Korea.
The islands, which are roughly equidistant from the two countries, are small but lie in fishing grounds which could also contain large gas deposits. A South Korean coastguard detachment has been stationed there since 1954.
The team of swimmers, led by South Korean singer Kim Jang-hoon, plan to reach the islands on Wednesday, which marks the anniversary of the country's liberation from Japan in 1945.
"Dokdo belongs to the Republic of Korea, so we will shout, 'Go for it with the Republic of Korea,'" Mr Kim told reporters before the swim began.
In another apparent statement on the islands, South Korea has also revealed plans to name a group of spindle trees on the island as a national monument, Yonhap news agency reports.
The designation will be formalised after public consultations and a state committee screening, it said.
The latest incidents follow a series of exchanges between South Korea and Japan on the disputed islands over the weekend.
South Korean President Lee Myung-bak's visit prompted Japan to summon the South Korean ambassador to file a complaint and recall its ambassador in Seoul.
Japan had also said over the weekend that it might take the dispute to the International Court of Justice.
A South Korean football player in the Olympics was also penalised on Saturday for displaying a political sign after the country's team won against Japan.
The International Olympic Committee barred midfielder Park Jong-woo from taking part in the medal ceremony, withheld his bronze medal and asked football's governing body, Fifa, to discipline him.