Chinese president meets Kim Jong-un's uncle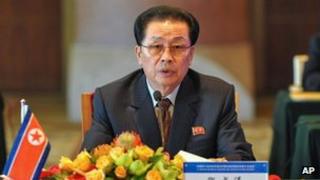 The powerful uncle of North Korean leader Kim Jong-un has met Chinese President Hu Jintao, China's state-run media said.
Mr Hu credited Chang Song-taek with developing "neighbouring friendship" between the two countries, it said.
Mr Chang, thought to be a key influence on Mr Kim, is a vice-chairman of the powerful National Defence Commission.
He arrived in China on Monday for talks focusing on economic issues, including two special investment zones.
"For many years, Comrade Chang Song-taek has done a great deal of work to develop neighbourly friendship between China and North Korea," Mr Hu was quoted by Chinese radio as saying during their meeting.
Mr Hu also offered his condolences to the victims of the devastating floods in North Korea that killed more than 100 people.
"I'm confident that under the leadership of the Korean Workers' Party with Kim Jong-un as its first secretary, the North Korean people will be able to overcome this flood disaster and build a beautiful homeland," he is reported to have said.
Earlier in the week, China's Commerce Ministry announced that it signed a deal with North Korea to develop two special economic zones, as well as agreements on agricultural co-operation and electricity supply.
One economic zone is in Rason, on North Korea's east coast, and the other is in Hwanggumphyong, on the border with China.
The meetings have been the most high-level talks between the two countries since the death of North Korean leader Kim Jong-il in December 2011.
Mr Chang is married to Kim Jong-il's sister and accompanied the late leader on several foreign trips.
He rose to prominence in party and economic spheres, rather than the military. His visit to China comes weeks after a high-level military reshuffled that resulted in the removal of army chief General Ri Yong-ho.