US general holds talks on Afghanistan 'insider attacks'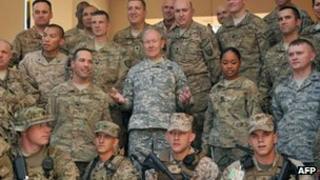 The top US military officer is visiting Afghanistan to discuss a growing number of attacks against Nato soldiers by members of the Afghan security forces.
Gen Martin Dempsey, chairman of the US Joint Chiefs of Staff, met Nato commanders and officials for talks on insider attacks, termed "green on blue" in line with colour-coding systems used by the US military.
His visit follows an incident on Sunday in which an Afghan in a police uniform shot dead a Nato soldier.
The victim was the 10th US soldier to die in such an attack in two weeks.
Two American soldiers were killed in another incident on Friday, a week after six were killed in a single day on 10 August.
'Vetting process'
Currently, approximately 130,000 (blue) Nato troops are fighting insurgents in Afghanistan alongside 350,000 (green) Afghans.
Sunday's shooting brought the total number of International Security Assistance Force (Isaf) personnel killed by members of the Afghan security forces this year to 40, with most of the victims Americans.
There were 35 such deaths in all of 2011.
Gen Dempsey told reporters that "the insider threat" would be discussed in his meetings with top Afghan officials and Nato and US army commanders.
He admitted that despite efforts to screen new recruits carefully, the number of attacks continued to rise.
"We have an eight-step vetting process that's been in place in earnest for about a year, but we haven't turned the corner on the trend," he said.
On Saturday, US Defence Secretary Leon Panetta urged Afghan President Hamid Karzai to improve cooperation with international forces to contain the threat from insider attacks.
The Taliban has been actively recruiting members of the Afghan security forces, publicly announcing that insider attacks were a central part of their strategy against Isaf forces.