Foreign press groups in China decry 'intimidation'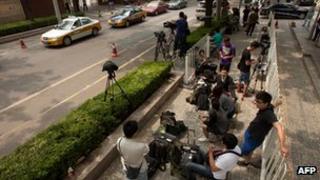 Foreign press associations in China say they are "extremely concerned" over recent instances of harassment and violence against foreign journalists.
A statement from groups in Beijing, Shanghai and Hong Kong said journalists had been "threatened, harassed and even beaten" while trying to work.
The statement called on China to better protect journalists.
In May Beijing expelled a journalist from the Al-Jazeera news channel, the first such move in years.
"We are particularly concerned that a number of these incidents have involved members of the official security forces and associated elements," said the statement from the Foreign Correspondents' Clubs of China, Shanghai and Hong Kong.
"We call on the authorities at all levels to ensure that journalists are protected from violence and intimidation."
Recent examples included police beating a Japanese journalist who was covering a demonstration and confiscating his equipment in July, and the assault of a Hong Kong reporter by plain clothes police in Hefei in August.
A mob also attacked a German crew at a chemical factory in Henan in August and detained them for nine hours, the statement said.
China says that foreign correspondents are free to report in the country although restrictions apply in Tibet, says the BBC's Martin Patience in Beijing.
But the reality is that foreign journalists are routinely detained by officials and on occasion beaten when covering sensitive stories, our correspondent adds.
Al-Jazeera's English-language reporter, Melissa Chan, was expelled from China in May. Officials have not explained why her press credentials were not renewed.