'Hundreds' of Afghan troops disciplined after rogue attacks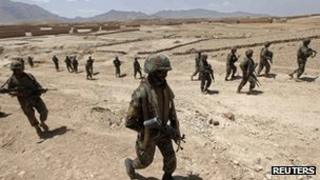 Hundreds of soldiers in Afghanistan have been dismissed or detained after a probe into a surge of insider attacks against foreign forces, officials say.
An investigation into so-called "green-on-blue" attacks began six months ago, defence ministry spokesman Zahir Azimi told reporters.
There were no further details about the exact number of troops affected or the precise grounds for dismissal.
Some 45 Nato troops have been killed by Afghan colleagues this year.
The sharp rise in such attacks has been a source of considerable concern to Nato.
On Wednesday Nato Secretary-General Anders Fogh Rasmussen expressed deep concern to Afghan President Hamid Karzai over the assaults. This follows a call made by US Defence Secretary Leon Panetta last month for the president to tackle the issue.
And on Sunday, the US military said it had suspended training for about 1,000 Afghan police recruits while more rigorous vetting procedures were put in place.
'Suspicious people'
Nato combat troops are set to withdraw by the end of 2014, but a central plank of the strategy is that foreign soldiers will serve alongside and train Afghans for many years to come.
Correspondents say that may not be realistic given the ever increasing number of Afghan forces who turn their weapons on their foreign allies.
Mr Azimi told a news conference that many of the soldiers were removed because they had either incomplete or forged documents, the Associated Press news agency reports.
"We have found evidence against some people and some suspicious people have been arrested," he said.
"Using an army uniform against foreign forces is a serious point of concern not only for the defence ministry but for the whole Afghan government," he is quoted as saying.
The term "green-on-blue" comes from the colour-coding systems used by the US military.
Currently, approximately 130,000 (blue) Nato troops are fighting insurgents in Afghanistan alongside 350,000 (green) Afghans.
Most of the victims of the green-on-blue attacks have been American.