Indie musicians test waters in Indonesia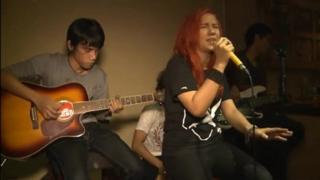 It is not unusual to be sitting in a busy traffic junction in Jakarta or on a crowded bus and be serenaded by a young busker or band.
While that in itself may not be remarkable, it would be fair to say that most of the time, the singers are actually very good.
Indonesians are known for their love of music. From the traditional beats of the Javanese gamelan to the modern pulsating rhythm of Indonesian pop or dangdut, almost everyone here has a song to sing or a tune to strum.
But many young Indonesians are struggling to make a name for themselves in the music scene. The industry has long been dominated by major record labels - that is why some are now choosing more alternative routes.
Making it
Take Tuffa for example. This independent, or indie, band is trying to stand out at a gig paying tribute to the Cardigans, a well-known Swedish band.
The Cardigans' 90s hit, Lovefool, topped charts around the world, including in Indonesia.
The crowd erupts in applause as Fierza Agie Cilla, the lead vocalist, starts singing the familiar strains of the chorus.
The atmosphere in the dingy, badly-lit bar is electric tonight; everyone in the room is a fan.
But behind all the fun and frolicking is a very desperate desire to make it to the big time.
Surviving the Indonesian indie scene is anything but easy. Many of the bands talk about how they have had to fund their music career themselves because they did not have the backing of major record labels who find their music a little too alternative for mainstream culture.
"It is very difficult to get a break," said Widya Fikasari, lead singer and manager of her band Murasaki.
"Most of us in the band have full-time jobs; we have to earn a living. But this is our passion, and we would love to try and make it in to the big league.
"It's just very challenging because we have to finance everything ourselves, from buying our own equipment to renting a studio to even releasing our own albums."
But there are some who are trying to help indie bands out. Meet Berisik radio - Indonesian for noisy.
The underground internet radio station, founded by lovers of indie music, operates out of a living room. Although still a small outfit, it has created a buzz online through Twitter.
Berisik is a passion for the founders, but they are also on a mission.
"We set up Berisik.com because mainstream music in Indonesia is so monotonous," said co-founder Mahdesi.
"We wanted to do something about this. So we told people who wanted to get into the indie scene here to send us their demos and the response has been great!"
The radio station was set up in 2009 and has been building a faithful following since.
Although the number of fans is still small - the founders say a few hundred people listen on a given night - Berisik caters to a niche but growing market.
Part of what it is also trying to do is to expose young, unknown talent.
"We want to be their link to creating new fans," Mahdesi said. "So that they don't need the backing of the traditionally big radio stations that monopolise Indonesia."
Indie success
But the reality is that without the support of big record labels, it can be very challenging for music groups to get their music out into the market.
Rap artist EndruMarch took a different, albeit riskier, route to fame. He went through three record labels in the last decade, but only tasted success when he decided to go indie.
"At the end of 2008, we decided to go independent," he said.
"That's when the doors opened. We got more airplay on radio and television and we learned that we didn't have to follow a certain formula to get famous or popular. We just had to be true to ourselves."
Masaru Riupassa, EndruMarch's manager, is considered the godfather of Indonesia's indie scene.
He still remembers the times, up until very recently, when the music industry was monopolised by major record labels.
But things are slowly changing. Because of piracy, fewer Indonesians are buying CDs, which has meant that profits for record labels are dwindling and they are beginning to lose their clout.
"These days we are doing what the major record labels used to do in terms of networking and promoting our music to radio and TV stations," he said.
"The only difference is that we don't have as much money. But thanks to social media, now we can reach just about anyone. We used to have to pay to be on TV; now it's the other way around."
This success, though, is still for the lucky few, and going indie in Indonesia is very much a gamble.
But for more and more of the country's young musicians that is a risk they are willing to take if it gets them their big break.