Nepal and Israel issue joint Everest and Dead Sea stamp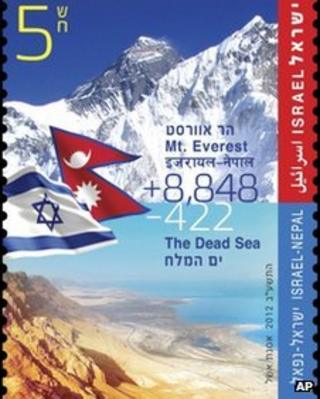 Nepal and Israel have released a joint stamp depicting the highest and the lowest places on earth - Mount Everest and the Dead Sea.
The stamp bears a picture of Mount Everest, towering at 8,848m (29,028ft), and the mineral-rich Dead Sea, at 422m below sea level.
It juxtaposes the Israeli and Nepalese flags and has Hebrew, Nepali, Arabic and English writing on it.
The two countries have enjoyed warm relations for more than 50 years.
The stamp was issued in both countries this week and is meant to be a celebration of their close ties.
In Israel it is valued at five shekels ($1.25) and in Nepal at 35 rupees ($0.39).
The BBC's Surendra Phuyal in Kathmandu says that more than 10,000 Nepalis work in Israel - mostly as carers - while an estimated 5,000 Israeli tourists visit Nepal each year.
Israel and Nepal also work closely together in areas such as agriculture and education.
The Nepalese foreign ministry says that bilateral relations have remained "cordial and co-operative" since diplomatic relations between the two countries were established in June 1960.
Mount Everest is on Nepal's border with China, while the Dead Sea borders Israel and the West Bank to the west, and Jordan to the east.