Japan's financial services minister found dead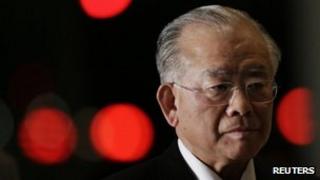 Japan's financial services minister has been found dead at his home in Tokyo, in what police say may be suicide, local media report.
Police gave no further details about the death of Tadahiro Matsushita, 73.
But public broadcaster NHK said he was found collapsed at home and rushed to hospital where he was confirmed dead.
Prime Minister Yoshihiko Noda had appointed Mr Matshuhita, who was also minister for postal reform, to his post in June.
The five-term parliament member was first elected in 1993.
"I am very shocked at the tragic news," Mr Noda was quoted by local media as saying. "I don't know what to say."
Tokyo police are currently investigating the cause of death.
A bodyguard discovered Mr Matsushita after he failed to report for official duties, reports the Mainichi Times newspaper.
Mr Matsushita was a member of the People's New Party, allied with the ruling Democratic Party of Japan coalition.