Northwest Pakistan roadside bomb 'kills 14'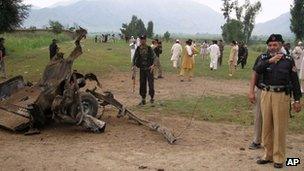 At least 14 people have been killed by a roadside bomb in the Lower Dir area of northwest Pakistan, police say.
Seven others were wounded, some seriously, in the explosion which took place early on Sunday.
The bomb reportedly hit a van carrying villagers heading towards a marketplace near the border with Afghanistan.
Lower Dir borders the Swat valley from where the Pakistani army ousted Taliban forces in 2009, and has seen many militant attacks in the past.
Taliban fighters chased out of Swat and Dir regions are reported to have set up bases in Afghanistan, just across the border from Lower Dir.
A senior police officer told AP that the bomb had been planted on a dirt road near Jandol and exploded at around 7am local time.
One survivor described a huge blast and passengers suddenly diving to the ground.
"I was listening to people's cries but unable to see anything as dust and smoke engulfed the air. Then I found myself in the hospital with my leg and hand bandaged," Dilawar Khan told AP.
Several children are reported to be among the dead.
One man whose wife was killed in the blast told Reuters he was taking her to get treatment for toothache when the van exploded.
Another said he had been escorting people to a funeral.