Nuclear power: Japan cools on phase-out deadline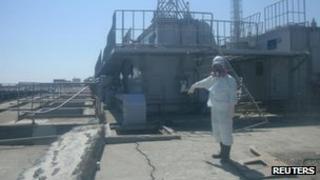 Japan has partially approved a plan to phase out nuclear power - without a specific deadline - after last year's Fukushima disaster, officials say.
Lawmakers backed parts of a government panel proposal on Friday to phase out nuclear energy, but did not include its suggested deadline of 2040.
The government has also launched a new nuclear safety regulatory agency.
Nuclear power has become a key public issue after a tsunami led to a meltdown at the Fukushima nuclear plants.
Before the Fukushima disaster in March 2011, Japan had wanted to raise its nuclear energy use to 50% by 2030.
Under the country's new energy plan, there would be a shift towards the use of renewable energy, as well as oil, coal and gas for its power needs.
"But whether we can become nuclear-free by the 2030s is not something to be achieved only with a decision by policy makers," Trade Minister Yukio Edano, who also oversees the energy portfolio, was quoted by the Reuters news agency as saying.
"It also depends on the will of [electricity] users, technological innovation and the environment for energy internationally in the next decade or two."
The decision comes after strong opposition from business groups, who said that phasing out nuclear energy completely was not economically feasible.
Under the plan, nuclear reactors would be shut down after 40 years and new ones would no longer be built.
Reactors may also be restarted before they are phased out, but only if they meet strict safety standards from the new regulatory agency.
The Nuclear Regulation Authority has now begun work after delays, in response to criticism that collusion between nuclear regulators and plant operators contributed to the Fukushima disaster.
However, critics say that the agency lacks real powers and its new head is a nuclear industry insider.
Nuclear plants were shut down for safety checks in the wake of the March 2011 earthquake and tsunami which led to the Fukushima nuclear disaster.
The restart of reactors in the town of Ohi in July sparked large public protests.