Joko Widodo leads Jakarta governor elections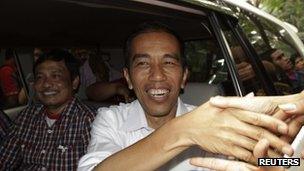 Unofficial results from quick counts in the Indonesian capital, Jakarta, indicate that Joko Widodo has won a lead in elections for a new governor.
The mayor of Solo, Central Java, leads over incumbent Fauzi Bowo in polls seen as a key indicator of how the public may vote in the 2014 general polls.
Almost seven million voters registered in what correspondents say was a hotly-contested election.
The official results will be announced on 1 October.
Most of Indonesia's opposition parties backed Mr Widodo, who is also commonly known as Jokowi. Mr Bowo was the central government's candidate.
At least two quick count results showed Mr Widodo leading with 54% of the vote, local reports say.
"I want to go and visit all those who have supported me, in the small alleyways and the villages, all the invitations I haven't been able to keep because I have been campaigning," he said, after thanking his supporters.
Mr Widodo has positioned himself as the "people's man" and analysts say that this has been a key reason why he has done well in this tight race, says the BBC's Karishma Vaswani in Jakarta.
Many of the key issues in this election - jobs, corruption, good governance and quality of life - are likely to be raised during the general elections in 2014, our correspondent adds.