US ends ban on New Zealand naval ship visits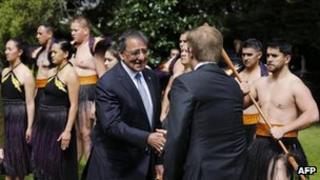 The US has lifted a decades old ban which prevented New Zealand naval ships from docking at its ports, US Defence Secretary Leon Panetta said.
The ban was put in place after New Zealand prohibited port visits by ships with nuclear weapons in 1986, which meant that US ships could not dock in New Zealand.
Mr Panetta is the first Pentagon chief to visit New Zealand since 1986.
Both countries have been discussing ways to build stronger defence ties.
Washington suspended its defence treaty with New Zealand in 1986. But the relationship between both has started to improve since New Zealand sent troops to Afghanistan.
The two signed a defence agreement earlier this year.
Mr Panetta told reporters: "While we acknowledge that our countries continue to have differences of opinion in some limited areas, today we have affirmed that we are embarking on a new course in our relationship that will not let those differences stand in the way of greater engagement on security issues."
The ''policy change'', Mr Panetta said, would make it easier for the military of both countries to ''engage in discussions on security issues and to hold co-operative engagements''.
He was speaking in Auckland at a joint news conference with New Zealand Defence Minister Jonathan Coleman.
Mr Coleman had said that while his country welcomed stronger ties with the US, its anti-nuclear position remains unchanged.
"We are in a new era and I don't think we should get hung up about trying to turn the clock back to pre-1986 because the reality is the relationship is very, very good," he said.
Mr Panetta also visited Tokyo and Beijing this week. The trip, one of several to the region this year, is seen as central to the US effort to rebalance its forces to the Asia-Pacific area as part of a new military strategy.