Panetta visit reinforces US-New Zealand defence ties
By Joan Soley
BBC News, Auckland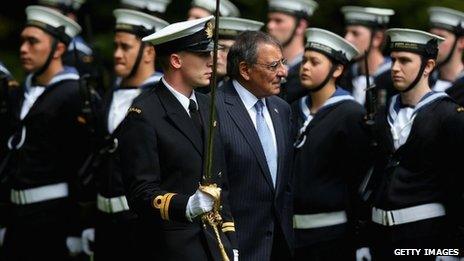 The first visit of a US Defence Secretary to New Zealand for three decades has opened a new chapter in defence co-operation between both countries.
Leon Panetta's presence in Auckland is intended to make clear the hopes of the US administration to find a "new normal" between the two countries, as one US official phrased it.
Speaking at a press conference with his New Zealand counterpart, Jonathan Coleman, Mr Panetta announced New Zealand naval ships would be allowed to dock at US military ports for the first time in 26 years.
While the change in policy may not seem significant, just this past summer New Zealand ships were left lingering outside Pearl Harbour - despite being invited participants to the world's largest naval exercise in the waters around Hawaii.
Mr Panetta also said he would ease the current restrictions in place on defence co-operation in terms of security discussions and military exercises.
Both sides wished to work together more closely in areas such as counter-piracy measures and amphibious training, he said.
"While we acknowledge our countries continue to have differences of opinion in limited areas, today we have acknowledged we are embarking on a new course in our relationship that will not let those differences stand in the way of greater engagement on security issues," said Mr Panetta.
The original rift stems from the mid-1980s, when New Zealand banned nuclear weapons from its territory, thus rendering US nuclear-powered and nuclear-armed warships unable - and unwelcome - to sail in its waters.
Shortly after that, the US suspended its defence treaty with New Zealand.
During Mr Panetta's visit, Dr Coleman said: "New Zealand has made it very clear that the policy remains unchanged and will remain unchanged."
But, according to a US defence official, the US has decided to "move on" from this point.
The chill truly began to thaw in 2010, during a visit to New Zealand by then-US Secretary of State Hillary Clinton, which culminated in the signing of the Wellington Declaration on further co-operation.
In June, Mr Coleman and Mr Panetta signed the Washington Declaration on greater military co-operation in the US capital.
This year, US marines have also visited New Zealand in an official capacity for the first time in 25 years.
New Zealand sending troops to Afghanistan in 2003 was arguably when a new and highly visible chapter for the two countries began.
Ten New Zealand soldiers have died in Afghanistan, half of them last month in two separate attacks.
Taking into account the total size of New Zealand's military, the deaths are proportionally hard on the small population, and a focal point of Mr Panetta's visit was to recognise the contributions New Zealand have made in that conflict.
As one US defence official described it, New Zealand's forces have been "punching above their weight" in Afghanistan.
Speaking at the Auckland War Museum Memorial later on Friday, Mr Panetta said it was largely through the "blood and sweat" of New Zealand forces that Bamiyan province was one of the first regions in Afghanistan set to have its security led by Afghan security forces.
"When the transition is completed there this year, New Zealand will be able to proudly say that it accomplished its mission," he said.
"I join Mr Coleman and the people of New Zealand in mourning for these heroes - and they are heroes - who gave their lives for their country and for a cause greater than themselves," he said.
According to Dr Stephen Hoadley of the University of Auckland, most people here have been in favour of New Zealand forces playing a role in the Afghan conflict "as long as they are useful".
And as the April 2013 deadline approaches, the general sense is that they made a positive difference.
"Bamiyan is an exception - we've done a good job and it is the right time for them to leave, honourably, having none of the aggro of other areas and with some regret due to the personal relationships they've fostered in the region," he said.
That is not to say that the loss of life has not been felt in New Zealand. On the contrary, as seen in a video by New Zealand forces, the military showed their fallen the highest of honours by performing a special haka when the bodies of some of the dead returned to the country.
New Zealand is the last stop of a three-nation tour for Mr Panetta - he arrived in New Zealand having spent time in Japan and China earlier this week.
The encouraging signs of a warmer relationship with the country are exactly what he came for, as the US policy of a "re-balance" to Asia continues to unfold.
While maintaining that the focus is not on China, the region as a whole is certainly aware of the much-discussed "rise" of the world's second largest economy.