Thousands protest over anti-Islam film in Kano Nigeria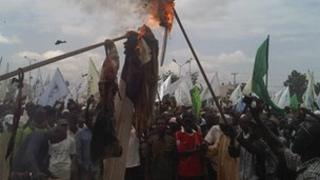 Tens of thousands of Muslims have marched in Kano, the biggest city in northern Nigeria, to protest at an anti-Islam video posted on Youtube.
Marchers shouted "death to America, death to Israel and death to the enemies of Islam" in a procession several kilometres long.
US and Israeli flags were dragged through the dirt.
The Islamic Movement of Nigeria, a pro-Iranian Shia Muslim group, organised the event, which passed off peacefully.
Protests over the amateur video, Innocence of Muslims, have been continuing in countries with significant Muslim populations for nearly two weeks.
"We are out today to express our rage and disapproval over this blasphemous film," Kano protest leader Muhammed Turi told AFP news agency.
"This protest is also aimed at calling on the US government to put a halt to further blasphemy against Islam."
The controversial video was made privately in the US.
Its anti-Islam message has been publicly condemned by US President Barack Obama.
Led by Sheikh Ibraheem Zakzaky, the Islamic Movement of Nigeria has seen its membership mushroom in recent years.
It is less well-known than the Sunni Muslim group Boko Haram, which is fighting for an Islamic state in Nigeria.
The country has been plagued by religious violence between Muslims and Christians for years.