Vietnam jails dissident bloggers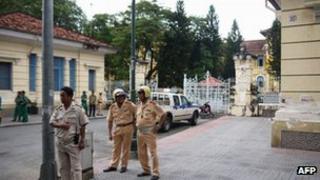 Vietnam has jailed three bloggers accused of spreading anti-government propaganda, in a case criticised by human rights groups.
The high-profile but brief trial took place in Ho Chi Minh City under heavy security.
The trio were given jail sentences of between four and 12 years.
The government, which does not allow freedom of expression, has been under pressure from bloggers over corruption cases and human rights issues.
The three were accused of posting political articles on a banned website called Free Journalists' Club, as well as articles critical of the government on their own blogs.
Nguyen Van Hai, who uses the pen name Dieu Cay, received the longest sentence of 12 years.
Former policewoman Ta Phong Tan, who also wrote a blog called Justice and Truth, was sent to jail for 10 years. In July, her mother died after setting herself on fire in front of a government office - it is not clear if the act was in protest at her daughter's detention or connected to other disputes, the family say.
The third dissident writer, Phan Thanh Hai, was jailed for four years.
'Dictatorship'
The case of Dieu Cay, who was a soldier before he became a dissident writer, was raised by US President Barack Obama earlier this year.
"I just feel frustrated by injustice, corruption, dictatorship which does not represent the state but some individuals," Dieu Cay told the court on Monday.
"According to Vietnamese laws, citizens have the right to freedom of speech and it is in accordance with international treaties to which Vietnam is party," he said before the audio feed was cut off, AFP news agency reports.
"Hai [blogger Dieu Cay] is innocent. In my opinion, the sentence is too harsh," said his lawyer, Ha Huy Son. He added that the judge had not allowed his client to finish his defence because of a "time limit".
The blogger's former wife, Duong Thi Tan, also said that police detained her and her son for several hours so they could not attend the court proceedings.
"Three people were charged with especially dangerous crimes within only several hours and people can clearly see that these are the most absurd sentences given to political prisoners," she told BBC Vietnamese.
In a statement, the US embassy in Hanoi called on the Vietnamese government to free the group.
"We are deeply concerned by reports that the Ho Chi Minh City People's Court convicted and sentenced blogger Dieu Cay to 12 years in prison for peacefully expressing his political views," the statement said.
Activists have accused the government of stepping up a crackdown against bloggers and peaceful activists.
"Vietnam's arbitrary use of vaguely worded national security laws to imprison critics of the government means bloggers are bearing the brunt of this assault on freedom of expression," Brad Adams, Asia director at the New York-based Human Rights Watch, said in a statement urging the release of the trio
Earlier this month, Vietnam's prime minister hit out at three blogs critical of the government.
A statement on a government website said PM Nguyen Tan Dung had ordered police to investigate and take action against those responsible.